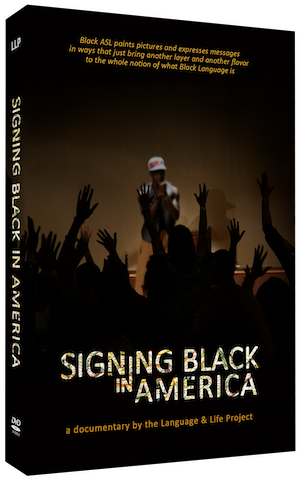 DVD available to ship July 2020!
Just like spoken languages, sign languages have dialects…
Black ASL is the unique dialect of American Sign Language (ASL) that developed within historically segregated African American Deaf communities. Largely unknown to outsiders, Black ASL has become a symbol of solidarity and a vital part of identity within the Black Deaf community. Different uses of space, hand use, directional movement, and facial expression are some of the ways it sets itself apart from other varieties of ASL. With the perspectives of Black signers, Sign Language interpreters, and the scholars who have worked to uncover it, SIGNING BLACK in AMERICA explores the history and development of this unique and expressive variety of visual communication.
Grounded. Poignant. Uplifting. To see the stories told by those living the Black Deaf experience, transcending generations, was a treasured experience.
– Anthony J. Aramburo, Associate Professor, Retired, Xavier University of Louisiana
A captivating documentary that is ideal for both academic and lay audiences alike.
– Tracy Connor, Visiting Assistant Professor of the Linguistics of African America, UC Santa Barbara
At once nuanced and keen, this film takes us to levels of understanding that have been a long time coming.
– Vaidehi Ramanathan, Professor of Linguistics, UC Davis
If we want to dismantle anti-black linguistic racism, we must include Black ASL. This documentary is a crucial tool we can use to start that conversation.
– Jeffrey Levi Palmer, Research Associate, University of Texas at Austin
It is a beacon for the study and preservation of linguistic and cultural heritage and gives voice to the lives of Deaf Black Americans.
– Jeffrey Davis, Professor of Sign Language Linguistics, The University of Tennessee